Komodo Fire Retardant Spray
An environmentally-friendly, water-based, non-toxic, non-hazardous fire fighting solution that is free of PBDE's (Polybrominated Diphenyl Esters) or any other restricted chemicals.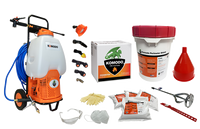 $1,310.00
Concentrate Refill Additional perimeter shield powder to refill the spray kits.
Ready to Use Ready to apply is pre-diluted and can create immediate defensible space and fire breaks.
$280.00
$3,100.00
Contact Sales for Pricing